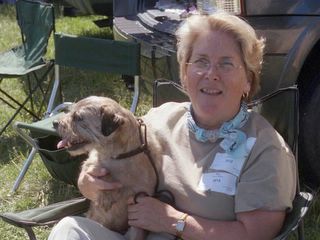 Last Sunday, my friend Marta Force asked me to take some photos of her dogs participating in a local
Earthdog Trial
. I knew nothing about Earthdog things and found it very interesting. Earthdog trials are AKC events in which small dogs search an underground tunnel layout for some rats caged at the end of the tunnel(s). Marta has Border Terriers, but there were a variety of breeds represented. This event was sponsored by the Parson Russell Terrier Club, Parson Russell terriers being the AKC name of Jack Russell Terriers, and in addition to a number of Border Terriers, there were Dachshunds and other terriers as well.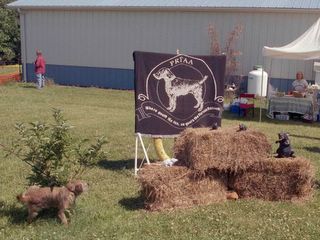 There are several
levels of Earthdog tests
. Beginners have a straight tunnel with no side tunnels; Junior tests use a tunnel with several right-angle turns, and the Senior tests add false side tunnels leading back to ground level. The Pot-of-Gold is a cage of live rats at tunnel end, protected from the dogs by a wooden-dowel fence that lets the dog see the rats but not actually get to them. ("No rats were harmed in the making of these photos.")
Marta's oldest dog, a female, Twig, needs to accomplish the advanced test to gain Senior Earthdog status.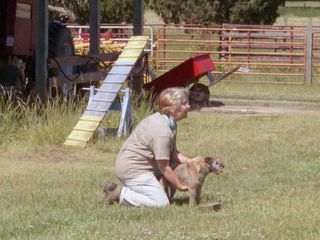 This time, she got almost all the way through the test (quickly entered the tunnel, found the rats, and actively worked to get to them), but she didn't quit and leave the tunnel whenthe rats were removed, so she didn't pass. Marta's two younger dogs, Bud and Barkley, competed in the Junior events. Bud went first but didn't enter the tunnel in the allowed time, so he was DQed. Barkley, however, went straight into the tunnel, got to the rat den, and went to work trying to get at them. He passed and got a ribbon.

In all, it was a very interesting event.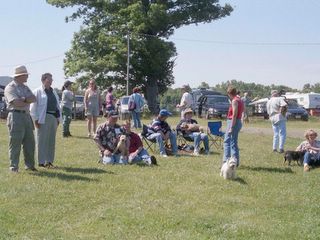 For more photos, see here.